The Stray Spirit is out now!
---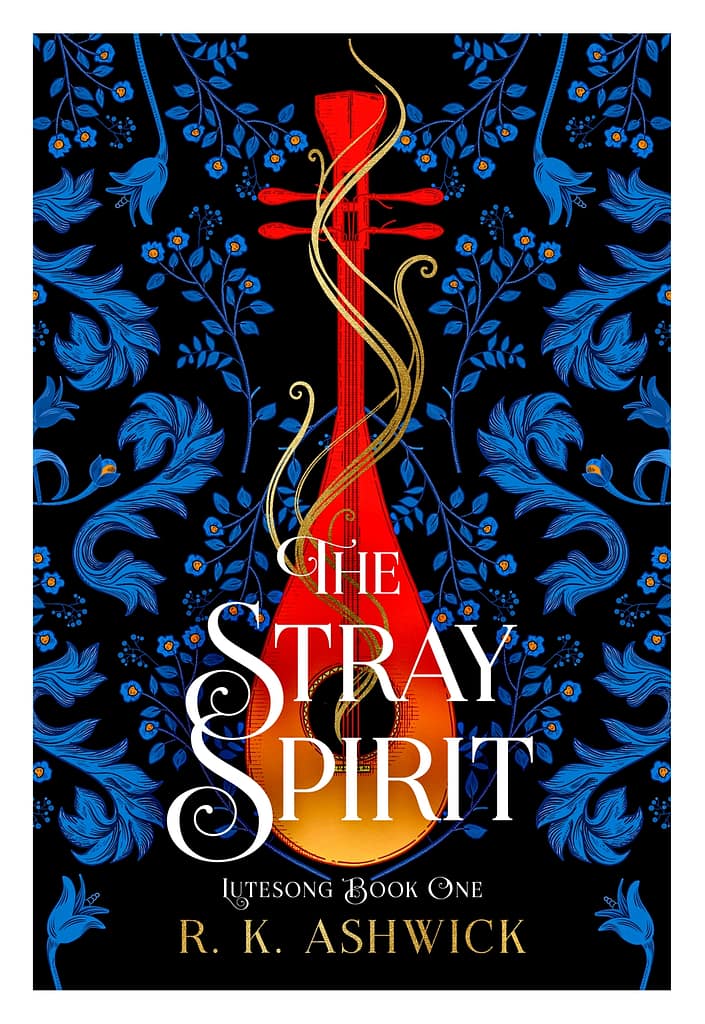 A bard and a forest spirit uncover a deadly magical threat…and the key to survival lies within their own forgotten songs.
Struggling bard Emry Karic has only one path home: impress the Auric Guild, join its ranks of elite musicians, and return to his family with his honor in hand.
Difficult to do on a good day. Impossible to do with a possessed lute.
Hours before Emry's big break, an unnatural earthquake strikes, forcing a forest spirit named Aspen to take refuge in his lute. Aspen is loud, talkative…and not leaving anytime soon.
Panicked, Emry swears the spirit to silence on stage, in exchange for a favor: he will help investigate the mysterious quake that nearly killed them.
But Emry is a bard, not a scholar, and his research leads straight to the person who resents him the most: Cal Breslin, his studious ex-girlfriend. Despite their history, Cal can't pass up the opportunity to study a mythical being. Yet as the trio delves into the forgotten folklore of spirits and gods, they uncover a magical threat—and lingering feelings—looming beneath the surface…
Also coming up in this series: The Spirit Well & Spirit Rising.
---
Praise for The Stray Spirit
"I came in with high expectations, and it exceeded every single one. This is honestly one of my new favorite books, I loved every moment of it. I cannot remember the last time I cried finishing a book just because it was so amazing and it was so bittersweet that it was over. Also, of course, cried twice at "You're my grove now." Along with the crying, I laughed, I smiled almost throughout the entire novel (including while I was at the airport, making me look like a minor lunatic), and had my heart racing. There are no words right now to describe how much I enjoyed this story, and I cannot wait for more of it." – Bailey Gallup, Amazon Verified Purchase
"This book captivated me the whole way through – the world building was engaging and the characters were both diverse and diverting. I couldn't put it down because I wanted to see what would happen to everyone, and I wanted to learn more and more about the world within which they lived! It was a comforting, heartfelt fantasy read with magic and romance, and I already can't wait for Book Two." – Steve, Amazon Verified Purchase
"Ashwick's first publishing establishes her brand of cozy low fantasy, an enjoyable cast of characters, and her skill at executing a well thought out vision with care." – Roddick Rules 2009, voluntary ARC review
"Oh this was an absolute delight! This cozy fantasy was a perfect debut novel for Ashwick. I found myself desperately flipping pages, completely engrossed with the story and characters…As for the story, it was a light read but dense with beauty. I wish there were more scenes with Emry playing the lute because they were written so eloquently. How is it possible for music to be written so beautifully in a novel? I've never seen it done well, until now. Encore, please and thank you." – Laura Winter, Amazon Review
"A clean and uplifting adventure with a touch of romance. It has a completely fresh and unique storyline with characters I was rooting for the whole way through! Beautifully stunning world-building and very entertaining! Riveting and charming from the first chapter on, highly recommended, if you like fantasy at all read this book!" – Starr Green, Amazon Review
---
For Stray Spirit art, check out the Artwork page!
You can find content warnings for The Stray Spirit here.
Coming Up Next in The Lutesong Series:
The Spirit Well
The Spirit's Curse