A Rival Most Vial is out now!
---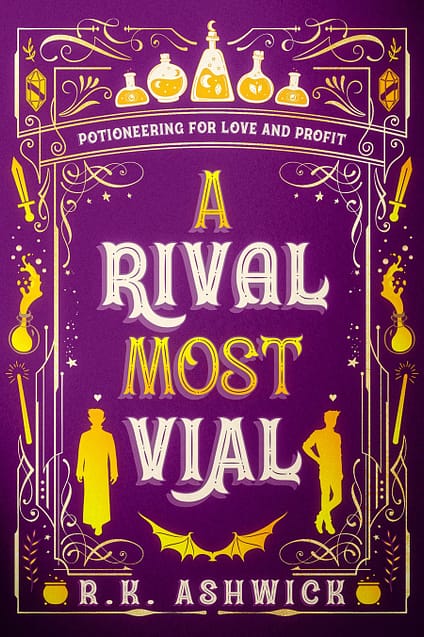 Two potion shops, one heated rivalry…until hate bubbles over into something else.
Any adventurer worth their sword knows about Ambrose Beake. The proud, quiet half-elf sells the best—and only—potions in the city.
Until a handsome new shopkeeper named Eli opens another potion shop across the street, throwing Ambrose's peace and ledgers far off balance.
Within weeks, they're locked in a war of price tags and products—Ambrose's expertise against Eli's effortless charm. Toil leads to trouble, the safety gloves come off, and right as their rivalry reaches a boiling point…
The mayor commissions them to brew a potion together.
The task is as complex as it is lucrative, pushing both men to the limits of their abilities and patience. Yet as the fires burn and cauldrons bubble…they find a different sort of chemistry brewing.
A Rival Most Vial is a cozy fantasy, rivals-to-lovers romance in the vein of Legends and Lattes.
---
Praise for A Rival Most Vial:
"This book wraps readers in a warm blanket of cozy fantasy. Whether you come for the well-written characters, the diverse queer rep, the intriguing story, the easy to understand world building, the smooth flow, or one of the other many amazing aspects of this book, you're sure to fall in love. …
This book releases on March 20th, and you do not want to miss out. It may very well be the next big read in cozy fantasy." – Author Amber Lewis
"I literally cannot say enough good things about this book. It was so warm and cozy, and as cheesy as this may sound, truly felt like a hug in book form." – Mandy Purvis from The Incoherent Fangirl
"This book is the equivalent of curling up on a beanbag with a hot chocolate on a rainy day. Warm-hearted and easy going, 'A Rival Most Vial' has a fun cast and heapings of found family to top it all off." – Emily, Goodreads Review
---
For Rival artwork, check out the Artwork page!
Content warnings for A Rival Most Vial are here.
Coming Up Next in The Side Quest Row Series:
A Captured Cauldron
A Draught for a Dragon
---